Force and Torque
measurement solutions
Com-ten supplies Force and Torque measurement solutions that provide advanced and the highest level of performance for production testing, quality control and laboratory testing. Designed and manufactured in France, our extensive products range suited from standard to challenging testing application. Our team of experiences engineers is at your disposal to customize the best solution for your applications.
Automated Spring Tester

The Springtest 3 is a motorized Compression and Tensile tester, dedicated to measure the force in one or two displacement points. Read more about the latest measurement technology to ensure accurate, precise, repeatable and reliable testing of springs.
Read more
Centormeter : the Torque auditing test bench New product line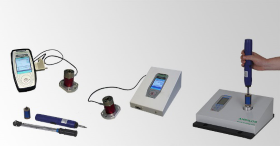 Calibrate and check all of your torque measuring tools: torque wrenches, torque screwdriver, electric screwdriver …
Read more