Inside this newsletter
Sales:
- Springtest 1: manual spring tester
Products :
- Manual spring tester: Springtest T1
- Low capacity spring testing: Springtest 2
- Automated tester: Springtest 3
- Torque bench: Springtwist
Knowledge base :
- How to measure the force of a spring?

Vidéos :
- Torsion springs

Technology focus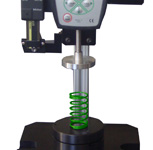 Measuring forces of springs is one of the most important test to determine the quality of the springs. Indeed all the springs are designed to have an expected force at a particular height, it is essential to validate the calculations and especially the manufacturing parameters by measuring forces.
Most of the time, the spring is used in a mechanism that has a rest position and an operating position. We therefore define a spring in determining two operating heights, H1 and H2 and measuring the loads expected when the spring is compressed to H1 and H2. So the requested measurement is the forces at H1 and H2. For a standard spring the tolerance is 10%, it is reduced to 5% for precision springs.

Read the complete article
Vidéo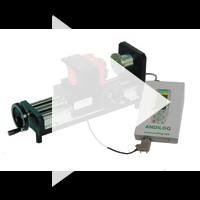 Discover online the video of our tensile and compression spring tester for very small springs and low forces.
Our Springtest 2 is the best solution when you need to make accurate tests in your quality lab. It displays force and deflection in the same time and can draw the curve directly on the display or on a computer.
They use our testers
Simmons Bedding, Eaton Corporation, Honeywell, Ace Manufacturing, North American Spring, Delco Automotive, Graiger, Rexam, Cook Springs, Johnson and Johnson Surgical Products, Hayden Automotive
Sales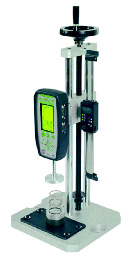 Introducing our manual spring tester for quality control in production. A perfect testing system to check incoming springs quickly and easily up to 20lb. Delivered with its certificate of calibration and all the accessories, the Springtest 1 is ready to use.
For $ 2995
instead of $ 3150
Limited time special offer, contact us at 800-552-5546

Contact us Technical specification
Products
Motorized spring tester up to 2500N: Springtest 3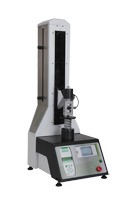 Using the latest technologies of the Stentor II, our motorized spring tester SPRINGTEST 3 can be used to test high capacity tension and compression springs. The command automatically determines the origin of the displacements and then stops the machine at a predetermined flexion value to measure the load of the spring. + info


Manual high capacity spring tester: Springtest T1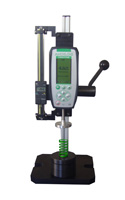 The SPRINGTEST T1 series is a very useful and economical system for checking compression springs in one point. The force gauge with a large display gives the force applied, the displacement sensor on the side shows the flexion or height measured under load. Ready to measure, supplied with all required accessories.+ info
High accuracy spring tester: Springtest 2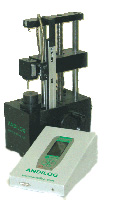 The Springtest 2 is specially designed for high accuracy measurements of compression and tensile springs. With its accurate positionning system, this manually operated test stand is well suited for the measurement of small springs with low force levels. The system displays the force and the deflection in the same time. Supplied with compression plates and hooks. + info
Springtwist, manual torsion torque tester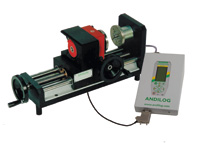 Dedicated to controls on torsion springs, this manual torsion test stand is fitted with a Centor Dual. It shows the torque and angle values on the same display. It is supplied with a set of bored plates and fitted with locating pins to hold the springs during the test. + info

Manual spring tester: Springtest 1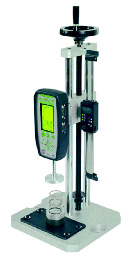 A very simple and economical tester for checking compression springs in a lab or on the floor. The force gauge measures the force applied on the spring, the displacement sensor shows the flexion or height measured under load. Ready to measure, supplied with all the accessories and a certificate of calbration linked to NIST. + info