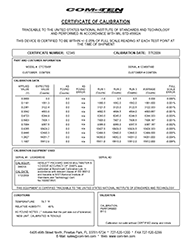 Calibration:
International standards recommand to calibrate your equipment once a year. Heavy usage or company policy may necessitate more frequent calibration. We have a fully equipped laboratory that is capable of providing quick turnaround on force and torque calibration.
All our equipments (new or re-calibration) are calibrated with our own standards and includes a certificate, showing 5 points in each direction, traceable to NIST (National Institute of Standards and Technology).
Example of certificate
A certificate of calibration following the ASTM E74 is availble upon request. This certificate includes 3 runs of 10 points in each directions.
Example of certificate
To get your equipment calibrated, ship it to the address below. Be sure to include a contact name and number. Contact one of our sales engineers for calibration pricing.
Shipping address:
Com-Ten Industries
ATTN: Calibration Dept
6405 49th Street North
Pinellas Park, FL, 33781
USA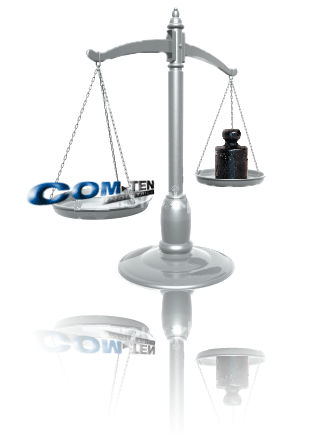 Repairs:
As a manufacturer of measurement instruments, it is important for Com-Ten to provide the best quality service on our products. Maintain your Com-Ten products to keep them in perfect working conditions with the knowledge of our skilled technicians. We provide complete service diagnostic, preventive maintenace, repair and calibration with approved and tested original parts. So don't hesitate to contact our engineers to provide you advises on spare parts and mainetance or to schedule a repair.