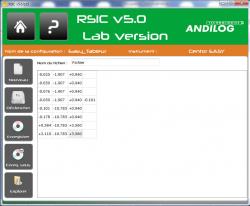 RSIC LAB software allows users the ability to transfer measurement data from the ANDILOG's measurement device to a computer. Recorded data are on text or standard spreadsheet Excel format. Our engineers understand that many test applications require easy storing, traceability and simple processing of all your data. RSIC Lab software is used for these exact purposes. With its new and friendly user interface, RSIC LAB is simple and powerful software.
Available formats:
Store data under text format
Store data on Excel spreadsheet
Create personalized reports through Excel
Each ANDILOG's measurement device offers different types of data that can be collected. The most used data are maximum and current reading; however RSIC LAB software allows users to store also: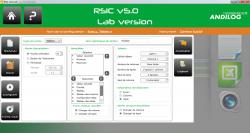 Minimum
Automatic calculations
Data stored in the internal memory of your device
Plotted curve on your Centor Touch
To zero your device
With its extended capability, RSIC LAB offers the possibility to program sequence of collected data; by simply pressing a key on your device or your computer. Collects maximum, minimum, curve and tare your device at one goes, and be ready to perform your next measurement.
Type of transfers available:
Pressing a key on your device
Pressing a key on your computer
Pressing a key from your device's screen
At regular intervals (duration and frequency can be set from 500ms to 1hour)
Compatible devices:
Centor Easy model
Centor Touch model
Stentor II
Atlas II
Other available features:
Preset configurations management
User and administrator level management
Personalizing files names
Language: French and English
Automatic detection of connected device
Minimum requirements:
Windows XP, Vista, 7 ou 8
One serial port RS232, Bluetooth or USB accordingly to your device
Microsoft Excel 2003