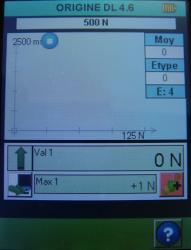 The system DATASTICK allows you to save you data on a USB stick in one click, whether you are doing your measurement indoor or outdoor on the field, we propose you a complete mobile solution. All data, results and curve are saved on your USB stick, no more needs of a computer. 
Connect the DATASTICK to your current gauge CENTOR TOUCH through a dedicated cable. Click on one icon from the main measuring screen and the CENTOR TOUCH forwards automatically your results to the USB Stick. The available forwarded data have to choose from: the current measured value, the curve or/and calculated values (max, min, break, average, Force at time …).
Data that you can save:
Current measured value
Curve
Calculations (max, min and up to 2 other predefined calculus)
Curve + calculations
Test result from the internal memory for statistics purpose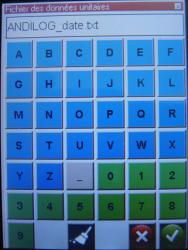 Personalize your records:
Thanks to the CENTOR TOUCH keyboard, you can customize how your results are recorded. You have the option to customize the file and directory name where data will be recorded, by example: the batch number, product name or your client. Moreover, data are automatically recorded with the date and time of measurement. No more doubt about the traceability of your measurements and the post-processing.



Format of recorded data:
Recorded results on the USB stick are on text format. They can be read easily by standard spreadsheet or writing software, as Microsoft Excel. You can than archive the results, draw curve: force vs time, force vs displacement…according to your setup.
Datastick is compatible with all CENTOR TOUCH system versions 4.6 or above, such as:
Dynamomètres Centor Touch Star et Dual
Couplemètres Centor Touch Star et Dual
Afficheurs digitaux Centor Touch Star et Dual
Stentor II
TorkHeaDriver
DrivePullTester
Twist
The DATASTICK kit includes:
USB stick
Connection cable