The motorized test stand ATLAS II CC is a complete automated material testing and ready to use system for all your force applications. The twin column load frame combined with the advanced technology of the Centor TOUCH, brings you a robust and versatile solution for tensile & compression tests up to 50kN. The ATLAS II has been designed to provide a durable measurement solution for routine manufacturing test and advanced laboratory test requirements.
Delivered with the material testing software Califort, the ATLAS II CC is the perfect equipment for your mutli stages test protocols in order to guarantee repeatability, accuracy and traceability of your results.
The ATLAS II CC range in figures
3 capacities : 10kN, 20kN et 50kN
Travel displacement: 900mm
Expanded working table suitable for testing large sample (350x350mm)
Large choices of grips, clamps and fixtures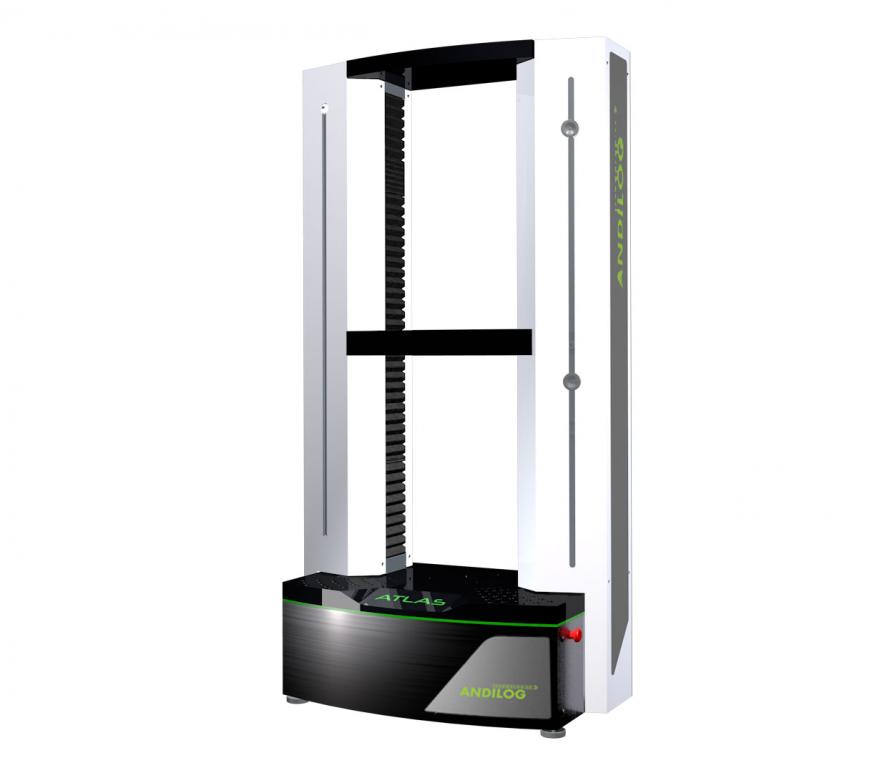 Strength and Precision
The material testing equipments STENTOR II CC and ATLAS II CC are designed to provide the best mechanical properties to guarantee reliability of your measurements:

- Pre-loaded ball screws : for a soft, accurate and repeatable displacement
- Crosshead guidance system : guarantee the rigidity of the frames for accurate measurements and minimal deformation.
- Symmetrivcal drive : the motor drives symmetric pulleys ensuring maximum performance and an uniform application of the strength on the crosshead during measurements
- T-slot table : ease of mounting tension and compression accessories and tooling.
- Quick interchangeable load cell setup
Key Features:
Complete system for tension, compression, flexural, friction, peeling testing
Computer control, calculation and report edition with the material software Califort
Fully interchangeable 'plug and play' load cells with our SPIP technologies
Supplied with:
Twin columns Motorized test stand and its controller
Force load cell and its calibration certificate
Material testing software CALIFORT and all required connection cables
Typical applications: the twin column ATLAS tester is versatile and fit a multitude of industries and application - Packaging, Plastics, Textiles, food, adhesives tapes, metals, rubber.